In Daemonheim, you may use pickaxes of the various tiers of metal to mine ores of these same metals from rocks you may find scattered around a dungeon. There are always five potential ores in a rock, but depending on your mining level and type of pickaxe used, you may crush up to 4 of the ores. Out of any single rock, you will always mine at least one ore. The higher your tier of pickaxe being used, the less likely you are to crush an ore. It is possible to get anywhere between 1 and 5 ores per rock (Up to 10 if the Gatherer ring class is being used). Sometimes, one ore rock will be accompanied by a second in the same room.
Below is a list of ores you can mine and pickaxes you can wield while training Dungeoneering.
Opening Doors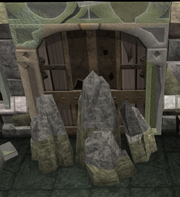 Mining in Dungeoneering allows players to clear rocks on certain doors that cannot be unlocked with the various keys found throughout the dungeons.
Note: A potion may be required to increase your mining level in order to clear a door. A
Pickaxes
(m) indicates members only
Ores
(m) indicates members only
Community content is available under
CC-BY-SA
unless otherwise noted.