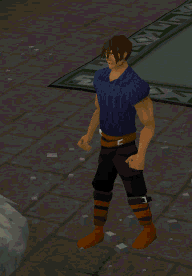 Runecrafting is used in Dungeoneering to craft runes, solve puzzles (like the magic construct), open skill doors and imbue staves to progress through the level. Crafting runes in Daemonheim provides 2% of the experience gained Runecrafting normally. There are no new runes in Daemonheim. For standard Runecrafting experience values, please see this page.
All players can craft basic runes. Non-members can craft all types of runes except for astral runes, blood runes and soul runes. Members cannot craft soul runes. Normal runecrafting level requirements apply in dungeoneering.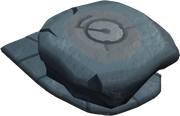 Opening doors
Runecrafting in Dungeoneering allows players to imbue certain doors with energy that cannot be opened otherwise. These doors are found throughout the dungeons.
Imbue runes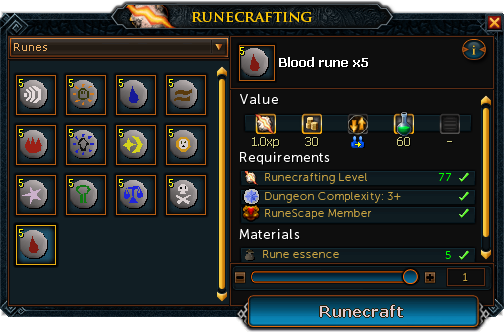 Staves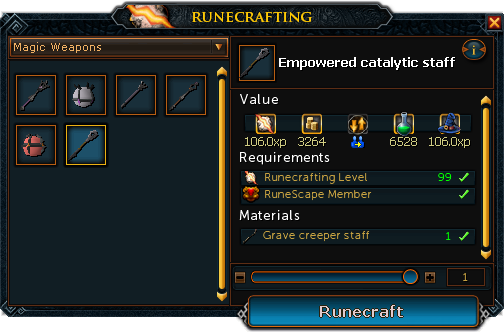 To obtain a staff or wand, left-click "Craft" on branches. Players can use a higher level material to imbue. For example, it is possible to create a catalytic staff by imbuing a thigat staff. However, this is not recommended, as the magic accuracy on the plain staves of a higher tier are higher and they already provide the same runes. Imbuing is only beneficial if the lowest possible tier of resource is used.
Items cannot be imbued if they are bound or equipped.
Trivia
Since the Evolution of Combat update, free-to-play players crafting death runes in Daemonheim is pointless because the only free-to-play spell that requires death runes is Teleport Block and that is unavailable during Dungeoneering. Chaos runes are also much less valuable in dungeons because the only available spell is Curse which is not a commonly used spell. Also, pay-to-play players no longer have a reason to craft blood runes since none of the spells used in Daemonheim use them anymore.

Additionally, a player does not have to craft any elemental runes if they are using a wand as the wand provides unlimited elemental runes to the player.

Imbuing staves only has a Runecrafting requirement, but gives equal amount of both Magic and Runecrafting experience.
It would take approximately 130,344,300 air runes to reach from level 1 to 99 Runecrafting.
Community content is available under
CC-BY-SA
unless otherwise noted.