The dwarf is one of the few dwarves who guard the entrance to the Mining Guild. They can be found at the south-west entrance of the guild in central Falador.
Only one of these dwarves is the master of Mining, and this dwarf can easily be spotted by the Mining cape that he wears. The master miner sells the Mining cape to members with level 99 in Mining for 99,000 coins. He also sells the Mining master cape to members that have achieved the experience equivalent to 120 Mining for 120,000 coins.
Along with the Trolls and the Black Guard, they participate in the attack on the Red Axe Stronghold led by King Veldaban in Birthright of the Dwarves.
Stock
Dialogue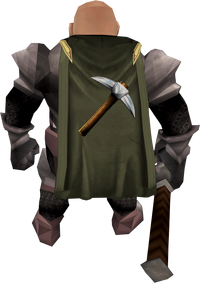 Community content is available under
CC-BY-SA
unless otherwise noted.