The earth talisman is an item that allows players to enter the earth altar located northeast of Varrock. It can be combined with a tiara to make an earth tiara for 32.5 experience at the earth altar by using the tiara on the altar. Using either the tiara or the talisman will give you access to the altar. Both the tiara and the talisman allow players to use the Runecrafting skill.
This talisman can be used to create combination runes.
An earth talisman is the tertiary item used in creating a Moss titan pouch.
The Earth talisman can be used on the wicked hood, giving the hood two free teleports to the earth altar, and 100 free earth runes every day. This will consume the talisman.
Players may receive earth talismans from opening a box of summoning ingredients, a possible reward from the Familiarisation Distraction and Diversion.
Dropped from
This list was created dynamically. For help, see the FAQ.
To force an update of this list, click here.
For an exhaustive list of all known sources for this item, see here.
Earth Altar Location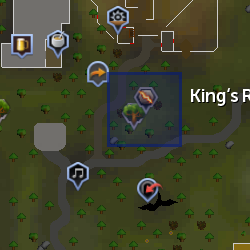 Disassembly
Community content is available under
CC-BY-SA
unless otherwise noted.