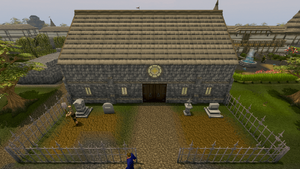 The
East Ardougne church
is a
Saradominist
church located in the middle of
East Ardougne
; north of the
Ardougne Zoo
, and between the river and
Handelmort Mansion
. Inside, there is an
altar
where players can recharge their
prayer points
.
The Sheep Herder quest can be started here by speaking to Councillor Halgrive. Doctor Orbon rewards those who completed the easy Ardougne Tasks with the Ardougne cloak 1.
There are also five ivy spots on the east wall of the church where players can train their Woodcutting skill.
Related to the Elf quest series
NPCs
Items
Locations
East Ardougne church
Miscellaneous
Community content is available under
CC-BY-SA
unless otherwise noted.