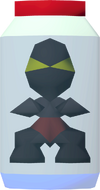 Eddy was one of the snow implings that belonged to the Snow imp in the 2012 Christmas event. Giving him back to your Snow imp would add bonus Hunter experience in a similar manner to the Festival of the Dead bonus experience. Each impling returned would grant a bonus of 50,000 Hunter experience.
Eddy and the other implings could be received through the Gift of Giving or by hunting snow implings.
Trivia
NPCs
Rewards
Related items
Community content is available under
CC-BY-SA
unless otherwise noted.