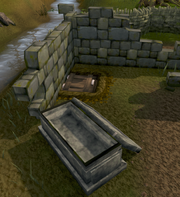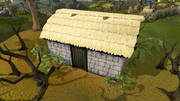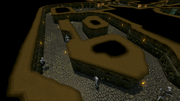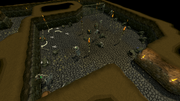 The Edgeville Dungeon is the only dungeon in RuneScape with portions both inside and outside of the Wilderness. The Wilderness portion of the dungeon extends as far as level 10 Wilderness, so players can attack you when players enter the Wilderness part of the dungeon. However, players will be safe provided their combat level is not within range of the possible aggressor. Anyone who wishes to explore the deeper parts of this dungeon should be careful and only bring items that he or she is willing to lose. Most of the dungeon is free-to-play, but entering the Wilderness portion will require the player to be on a pay-to-play server.
Entrances
There are two entrances to the dungeon. The most common is in Edgeville, in the ruins south of the bank. It is marked by a

mark on the minimap.
Another entrance is west of the Cooks' Guild near Varrock on the east side of the River Lum. To get in, the player must bring a brass key which can be found in the dungeon. It is useful to players who wish to collect big bones, since it leads right down to a group of hill giants and is fairly close to the Varrock bank. Alternatively, members can use the bank in the Cooking guild, which is nearer, provided they have completed the Hard set of the Varrock tasks.
Notable features
Non-Wilderness area
Wilderness area
Other features
Monsters
Trivia
This entire dungeon was given a graphics update on 6 February 2008 and again on 1 February 2011. A tunnel filled with poison spiders was added between Chronozon's lair, allowing players to bypass the Wilderness area of the dungeon.
In the wilderness area of the dungeon, near the Chaos druids, the bubbling swamp makes a sound eerily close to the beating-heart sound played when you are close to death.
In the Hill giant area of the dungeon there is an area to the south where bones turn blue.
Going to this dungeon became a 'task' for Varrock on 24 November 2010.
References
Wilderness and free trade live Q&A
NPCs
Enemies
Items

| | |
| --- | --- |
| Crest and its parts | |
| 'Perfect' jewellery | |

Rewards
Locations
Edgeville Dungeon
Miscellaneous
Quick guide • Transcript
Asgarnia
Kandarin
Karamja
Kharidian Desert
Misthalin
Edgeville Dungeon
Morytania
Fremennik Province
Feldip Hills
Wilderness
Troll Country & The North
Keldagrim
Tirannwn & Galarpos
Elite dungeons
Others