Emberkeen boots
Release
15 June 2015 (Update)
Members
Yes
Quest item
No
Tradeable
Yes
Stacks in bank
Yes
Equipable
Yes
Stackable
No
Disassembly
Yes
Noteable
Yes
Value
120,000 coins
High alch
72,000 coins
Low alch
48,000 coins
Destroy
Drop
On death
Reclaimable
Value: 39,534,740
Reclaim: 268,173
Sacrifice: 1,072,692
Exchange

39,534,740

coins (info)
Buy limit
5
Weight
1.5 kg
Examine
A pair of upgraded steadfast boots.
[FAQ] • [doc]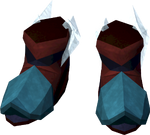 Emberkeen boots are a pair of degradable boots upgraded from steadfast boots, using two steadfast scales. They require level 90 Defence to equip.
Emberkeen boots degrade for 100,000 hits of combat before reverting to steadfast boots. On death in the wilderness, they will drop with the same amount of charges. Using a steadfast scale on a pair of Emberkeen boots will recharge it by 50%. Once equipped, the boots become permanently untradeable, even if they are recharged to 100%.
Creating emberkeen boots yields a profit of 5,963,105 coins.
Combat Stats
Requirements
Degrades
90
100,000 charges
Class
Slot
Melee
Tier
Type
90
Power armour
Weapons
Main
Off
Damage
-
-
Accuracy
-
-
Style
-
Range
-
Attributes
Damage reduction
Armour
108
PvM:

0%

PvP:

0%

Life points
0
Style bonuses
Prayer
2

14

0

0

[FAQ] • [doc]
Disassembly
Monsters
Exclusive drops
Location
Related