Ernie is a man who explains the purpose of urns to players. He can be found by climbing up the ladder in a building directly east of Aubury's Rune Shop in south-eastern Varrock; the building contains two potter's wheels and a pottery oven on the ground floor.
He appears to be "in love" with urns, hugging them constantly and showing obsessive behaviour about them.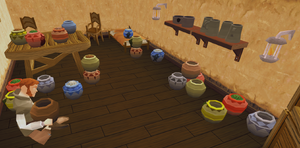 When you ask Ernie about different types of Urns, he speaks of how each one helps with a "delicious" secret. Instead of teleporting them, you can also bring the urns to Ernie yourself. If you use a full urn on him, he will take it. If you use any type of unfinished or unfilled urn on him, he will tell you what you should do with it next.
During Dimension of Disaster: Curse of Arrav, his alternate dimension counterpart gives players a canopic jar after they fill a cooking urn for him.
Trivia
His name is a play on the word 'urn'.
Community content is available under
CC-BY-SA
unless otherwise noted.