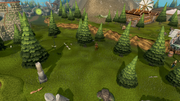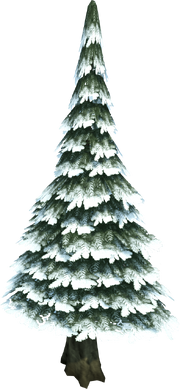 Evergreen trees, when chopped down, give normal logs. The only difference is the appearance and will rarely give multiple logs. Evergreen trees are only found in the colder climates of Gielinor like the White Wolf Mountain. The evergreen tree is also found just on the west side of the Gunnarsgrunn, slightly north of the Barbarian Outpost, north of Falador, near the entrance to the Dwarven Mines, a little east of Camelot Castle and on Dragontooth Island.
Using a knife on an evergreen with a bucket in the inventory will produce a bucket of sap that is needed for the quests Icthlarin's Little Helper and The Eyes of Glouphrie.
Travel
Use fairy ring code AKQ; the ring is next to a group of evergreens.
Cast Camelot Teleport. Evergreens are directly east of the arrival point.
If the player's house is in Taverley, Teleport to House. Evergreens are adjacent to the north and west.
Evergreens can also be found in the Heroes' Guild and on Miscellania.
There is an abundance of evergreens around Barbarian Outpost.
Players can use the Lodestone Network to teleport to Falador, as there are evergreens directly north of where the player arrives.
Trivia
Community content is available under
CC-BY-SA
unless otherwise noted.