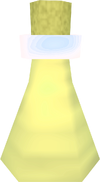 Extreme invention potions are upgraded super invention potions. It is made by adding mycelial webbing to a super invention potion, requiring level 95 Herblore.
The potion boosts Invention levels by 15% plus 3 when consumed. After the 6 minutes have passed, the boost will slowly degrade at a rate of 1 level per minute.
Extreme invention (3)
-
300 XP
-
-
Requirements
Herblore level
95
Members only
Yes
Materials
Item
Quantity
Price
Total
Super invention (3)
1
1,523
1,523
Mycelial webbing
1
2,325
2,325
Total price
3,848
This potion can be made into an Invention flask by using at least six doses of it with a potion flask. Players do not need a specific level to turn potions into flasks.
DisassemblyEdit
Unfinished potions
Combat potions
Recovery potions
Cures and antipoisons
Skill potions
Weapon poisons
Quests
Minigames
Miscellaneous