Walkthrough
Start point

Martin the Master Gardener in Draynor Village.
Member requirement
Members only
Official difficulty
Experienced
Official length
Medium
Requirements
Skill requirements are not boostable unless marked with a [B] for boostable.

Quests:

Items required
Items from the tool belt are not listed unless they do not work or are not automatically added.

Secateurs (tool belt will not work)
Three or four random items assigned individually for each player (list of possible items below)

Recommended
Enemies to defeat
G.A.G
Talk to Martin the Master Gardener in Draynor Village.
Talk to 5 different gardeners near farming patches around RuneScape

The correct speaking option won't be available if the farming patch next to them isn't clear.
The farmer in Prifddinas doesn't work.

A random farmer will mention fairies.
Talk to Martin again.
Finding a cure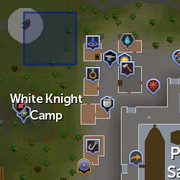 Equip your staff and head to the Lumbridge Swamp to enter the Lost City shed.
Run south (near Chaeldar, the Slayer master), talk to the Fairy Godfather about the Queen.
Run west to the bank. Talk to Fairy Nuff a few steps north of the bank.
Travel to The Dark Wizards' Tower (west of Falador).
Climb to the top, talk to Zandar Horfyre.
Teleport to Port Sarim and talk to Malignius Mortifer (just north west of Port Sarim.) about a Tanglefoot (pictured right).
Run behind Draynor Manor and dig the grave (click on gravestone) for a skull. (still within the grounds of Draynor Manor.)
Return to Malignius.
Fetch the items that Malignius requested (they will be listed in your quest journal). Bring multiple of any edible item, or bring a filled druid pouch to ward off ghasts.
Magic secateurs
The final fight
Return to the Lost City, west of the Cosmic altar, enter the shady grove.
Run through the grove to the large room.
Equip your magic secateurs and kill Tanglefoot.

Off-hand weaponry will work here, but will only deal as much as the secateurs would.

Take the Queen's secateurs.
Talk to the Fairy Godfather.
Quest complete!
Rewards
Community content is available under
CC-BY-SA
unless otherwise noted.