Walkthrough
Start point

Talk to Dimintheis in south-east Varrock, next to the Fancy Dress Shop.
Member requirement
Members only
Official difficulty
Experienced
Official length
Medium
Requirements
Skill requirements are not boostable unless marked with a [B] for boostable.

Ironmen:

These are not required if you obtain the items required as a drop instead.

Items required
Items from the tool belt are not listed unless they do not work or are not automatically added.
Recommended
Enemies to defeat
Patriach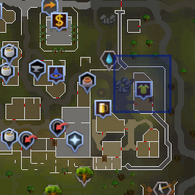 Caleb's piece
Give him swordfish, bass, tuna, salmon and shrimp to receive a crest part.
Ask Caleb where the rest of the crest is.
Avan's piece
Teleport to Al Kharid.
Run north to the Al Kharid mine, talk to Avan.
Go to the Dwarven Mine under Ice Mountain and north-east of the Falador lodestone. Climb down the ladder into the mine. Head south-west of the general store, talk to Boot. Boot is labelled on the World Map of the mine.
East of Ardougne in Witchaven there are some old ruins. Climb down the ruins.

Logging out will reset this puzzle.
Run north and pull the lever next to the door.
Run into the southern room and pull the lever.
Run back to the northern wall and pull the lever.
Enter the northern room and pull the lever.
Leave the room and pull the lever on the northern wall.
Run into the southern room and pull the lever.

Mine 2 gold ore in the hellhound room.
Smelt the ores into a ruby ring and ruby necklace at any furnace.

You have to use 'perfect' gold bars on a furnace once you have smelted them with cut rubies in inventory.

Give them to Avan.
Johnathon's piece
Talk to Johnathon on the 1st floor[

UK

] of the Jolly Boar Inn north-east of Varrock.
Use an antipoison on him.
Teleport to Edgeville and prepare for the final fight (multiple casts of the four blast spells).
Enter Edgeville Dungeon and run north, then west.
Cast air, water, earth and fire blast on Chronozon - they must damage him to count.
Kill him and take the crest piece.
Finishing up
Assemble the crest by using the parts on each other.
Talk to Dimintheis.
Quest complete!
Rewards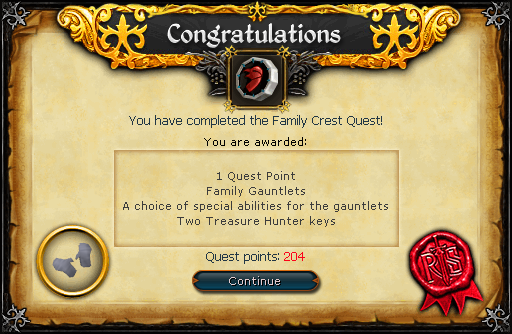 NPCs
Enemies
Items

| | |
| --- | --- |
| Crest and its parts | |
| 'Perfect' jewellery | |

Rewards
Locations
Miscellaneous
Quick guide • Transcript
Community content is available under
CC-BY-SA
unless otherwise noted.