Feathered serpent outfit
Release date
6 December 2011 (Update)
Members
Yes
Components
4
RuneCoins
N/A
Loyalty Points
4,000 points
Recolourable
Yes
Available colours
Description
Represents an ancient and powerful civilisation.
These cosmetics will not display
in PvP-enabled areas.
[view] • [talk]

The Feathered serpent outfit is an outfit that can be purchased from Solomon's General Store. It was formerly an item set available through the Members Loyalty Programme. Once the cosmetic override set is unlocked the player may reclaim the item set and use the free recolour options via the Loyalty Programme Shop.
It consists of: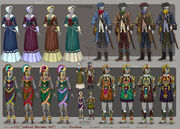 Gallery
Trivia
This outfit was previously known as the Aztec outfit.
The override is named after the Aztec deity Quetzalcoatl whose name literally means "feathered serpent".
Miscellaneous

Male Hairstyles
Female Hairstyles

Outfits
Accessories
Animations
Pets
Community content is available under
CC-BY-SA
unless otherwise noted.