Festival of the Dead was a temporary member's only Holiday event released on 2 October 2012 (not to be confused with the 2012 Hallowe'en event). The event was centred around celebrating the lives of deceased NPCs, and bringing them back to life for the celebration. It was only available for members.
During this event you may choose to celebrate the lives of up to 5 different deceased NPCs from the game.
Participating in this event earned your character a Skull mask and up to a total of 251,000 bonus Prayer experience (depending on how many of the tasks are completed). The bonus experience was not granted immediately as it would by experience lamps (where experience is immediately awarded); for this holiday event's bonus Prayer experience, it was granted similar to the form of double experience weekend, in that only as you earned experience in Prayer, then you would get double Prayer experience (up to the maximum bonus Prayer experience you had earned in the holiday event), with the following restrictions:
Players could participate in this event by speaking to Father Joakim, who was located next to a large coffin in two locations: south of the Lumbridge Cemetery and behind the church south-east of Burthorpe. There is no difference in gameplay between the two locations.
This event was made up of five celebrations, each requiring a higher prayer level and the completion of more quests than the last.
Tasks
If you choose to complete multiple tasks, you may do them in any order desired. However, you may only have one task active at a time, and while that task is active, the items for other tasks will not be available (although you may make all the Clay skulls at once and have them in your inventory). Tasks already completed are marked with a green checkmark. You may also repeat tasks, but no additional experience awards are earned. If you attempt to be assigned a task which you have already completed, Father Joakim will give you the opportunity to either proceed or cancel the duplicate task.
There are four steps for each task:
Note: The individual items for each NPC can not be obtained prior to starting each tribute; they must be gathered individually upon starting each event.
In addition to the bonus Prayer experience, players also receive a Skull mask after the completion of any one of these tasks, assuming they do not already own one. If destroyed, it may be retrieved from Diango in Draynor Village. It can also be stored in a Toy box in a player-owned house. Clay skulls or additional flowers of the dead, while obtainable from the crate at any time during the event, may not be banked, stored, or traded.
Ceremonies
Zamorakian Cultists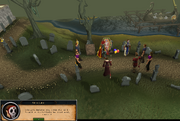 Attending are:
Void Knights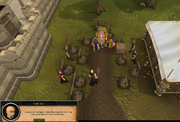 Attending are:
Drunken Dwarf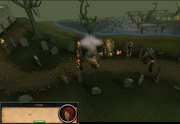 Attending are:
Fight Pit warriors
Attending are:
The second Woman and Man do not dance.
Duradel
Attending Duradel's ceremony are:
Transcript
Gallery
Trivia
NPCs
Items
Rewards
 Skull mask
Related