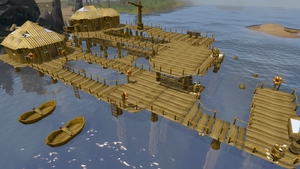 The Fishing Platform is located due east of Witchaven, in the ocean. To reach the Fishing Platform, start the Sea Slug Quest and talk to Holgart, who will row the player back and forth. After starting the Slug Menace quest, the NPC Jeb will provide that same service. Holgart resumes service after Salt in the Wound.
History
The exact date the Fishing Platforms was constructed is unknown, but it is known that is has not been around for too long. Its close proximity to the fishing town of Witchaven meant that once the Fishing Platform was completed, the village's livelihood as a fishing village was annihilated. The bitterness created by the impoverishing of Witchaven is involved in the Slug Menace and Kennith's Concerns quests.
Points of interest
The fishing platform has four fishing spots on the east side of the ground floor. These fish can only be caught by bait fishing or net fishing. The nearest two banks are at Legends' Guild and East Ardougne. Raw fish may also be sold to Ezekial Lovecraft, and bait may be bought for the earned money. This allows players training Fishing to "camp", training non-stop.
On the second floor is a boy named Kennith, whom players must rescue during the Sea Slug Quest.
During the Slug Menace Quest, the fishing platform is invaded by possessed giant lobsters, but they disappear after Salt in the Wound.
Quests
Personalities
Music Unlocked
Trivia
The examine text on the ice cube by the ladder reads "Ice, ice, baby", a reference to Vanilla Ice's song of the same name.
See also
Community content is available under
CC-BY-SA
unless otherwise noted.