The Flaming skull was a vanity item obtained by redeeming a 90/100 day game card.[1] It can be changed into four colours: red, green, blue, and purple. Between 20 December 2012 and 31 January 2013, players could also get access to this item by purchasing a Gold Membership in the Premier Club.
As of 18 March 2013 the flaming skull can be purchased from Solomon's General Store.
Colours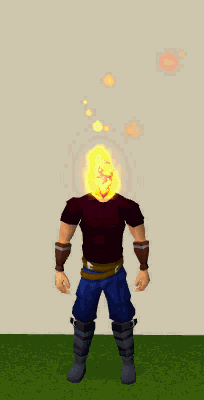 Retailers
Flaming skulls could be obtained by redeeming a 90/100 day game card purchased from the following retailers; it was available from 22 June 2012 until 15 July 2012.[2] Afterwards it was also made available between 5 November 2012 and 18 November 2012 at Bart Smit.
UK: GAME
United States: Gamestop , 7-11 stores
Canada: EB Games
Australia and New Zealand: EB Games
Republic of Ireland, Norway, Sweden, Germany, Finland, Austria, Denmark and Switzerland: Gamestop
The Netherlands: Bart Smit
Trivia
Jagex stated that to obtain the skull you needed to buy a card from Gamestop in the U.S., however before Jagex released the information, it was possible to obtain one from a 3 month card purchased at Walmart.
References
Community content is available under
CC-BY-SA
unless otherwise noted.