Flatpack items are items of furniture built with the Construction skill, and are made at at workbench in a player-owned house. The basic wooden workbench can make any flatpack item level 1 to 20, and higher tier benches can be used for increasingly higher-levelled flatpacks, with the highest level workbench, a bench with lathe, able to make any flatpack item.
Flatpacks, which are tradeable and can be sold on the Grand Exchange, allow players who do not have the Construction level necessary to buy pre-built versions of furniture and build them in a hotspot of their player-owned house. However, no experience is received when using the flatpack on the hotspot.
Mechanics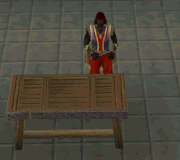 Flatpack items can be constructed at a workbench in a workshop. A hammer and a saw are needed in the inventory or tool belt to build flatpack items, which are always built un-noted. At the workbench, the same amount of materials is used to construct the item as if it were actually built in the hotspot of a player-owned house.
Making flatpack items can be more efficient than building actual furniture in a hotspot, as there is no need to enter building mode or remove the furniture from the hotspot afterwards.
While they are tradeable, there is not much traffic in flatpack items, and they do not sell for much at general stores. The exception to this is mahogany flatpacks, which with the release of Invention are now a popular source of simple parts, used in the manufacture of charge packs.
The flatpack depacker device allows players to note or dissassemble up to 60 flatpack items, which dramatically reduces the banking time and trips for servants. They are also useful when building with protean planks.
Selling to Miscellania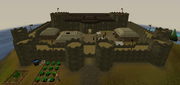 After all Hard Fremennik Tasks have been completed, Advisor Ghrim, on the 1st2nd floor[UK] of Miscellania Castle, will buy your flatpacks and deposit the money into your kingdom's treasury. Ghrim will not accept noted flatpacks so this option is less useful than it first appears, as you may have to make multiple trips to a bank to exercise this option.
The nearest bank is on the north-east end of Etceteria. However, the ring of wealth allows players to teleport directly into Miscellania Castle's throne room very close to Advisor Ghrim. Players can teleport to Ghrim, give him the flatpacks, teleport to a bank with any method and withdraw more flatpacks, and repeat.
The prices Advisor Ghrim pays for each flatpack is based on the materials required to make the flatpack. This table shows the price for each of the materials used in the flatpacks. The prices will be rounded to the nearest integer when there are decimals involved.
Flatpack items
Armchairs
Bookcases
Beer barrels
Kitchen tables
Dining tables
Dining benches
Beds
Dressers
Wardrobes
Clocks
Cape racks
Magic wardrobes
Armour cases
Treasure trail chests
Fancy dress boxes
Toy boxes
See also
Parlour
Kitchen
Dining Room

| | |
| --- | --- |
| Dining tables | |
| Dining benches | |

Bedroom
Costume Room
Community content is available under
CC-BY-SA
unless otherwise noted.