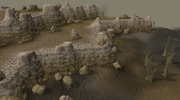 The Forinthry Cliffs is the large mountain range upon which the Troll Country rests and that separates it from the Wilderness. The name was revealed with the release of Troll Invasion as Cliff, a troll larger even than Dad, had eaten a chunk of the cliffs. They are named Forinthry Cliffs because the Wilderness was called Forinthry before the God Wars.
Community content is available under
CC-BY-SA
unless otherwise noted.