(i'm going to put emphasis on the dimensions, oh and btw it can be as wide as 215 afaik please inform if other)

Line 1:
Line 1:
−

Please design and submit a logo to replace [[:File:Wiki.png]]. Please see [[Forum:Changing the logo|this page]] for more information. Feel free to conceptualize and use your imagination. Please keep all logos no larger than 155 by 155 pixels. ''It would be nice to have something that goes with the sapphire (default) skin. Please <span style="color:red">do not upload logo ideas on to the wiki.</span> Use [http://imageshack.us/ ImageShack] or [http://photobucket.com/ Photobucket] instead. The deadline for submissions is '''00:00 UTC, September 7th, 2010'''.

+

Please design and submit a logo to replace [[:File:Wiki.png]]. Please see [[Forum:Changing the logo|this page]] for more information. Feel free to conceptualize and use your imagination. Please keep all logos no larger than by 155 pixels. ''It would be nice to have something that goes with the sapphire (default) skin. Please <span style="color:red">do not upload logo ideas on to the wiki.</span> Use [http://imageshack.us/ ImageShack] or [http://photobucket.com/ Photobucket] instead. The deadline for submissions is '''00:00 UTC, September 7th, 2010'''.

 
 
 

In addition, you can give ideas for new logos without actually making them. {{Signatures/Cook Me Plox}} 06:58, August 24, 2010 (UTC)

 

In addition, you can give ideas for new logos without actually making them. {{Signatures/Cook Me Plox}} 06:58, August 24, 2010 (UTC)
---
Revision as of 14:57, 24 August 2010
Please design and submit a logo to replace File:Wiki.png. Please see this page for more information. Feel free to conceptualize and use your imagination. Please keep all logos no larger than 215 pixels wide by 155 pixels tall. It would be nice to have something that goes with the sapphire (default) skin. Please do not upload logo ideas on to the wiki. Use ImageShack or Photobucket instead. The deadline for submissions is 00:00 UTC, September 7th, 2010.
In addition, you can give ideas for new logos without actually making them. ʞooɔ 06:58, August 24, 2010 (UTC)
Submissions
If posting a logo, paste the "Direct link" url followed by the design name or short description of the logo followed by your signature (~~~).
SUBMISSIONS MUST BE IN PNG FORMAT.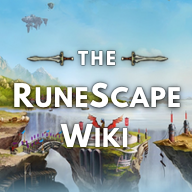 - Original - Example
File:Custom wiki.png - made by Cigimo0 (RuneScape Wiki FR), adapted by Manyman and Mark for the Heroes theme. -

Sentra246

http://i1018.photobucket.com/albums/af305/pharos5000/th_Wiki_Logo2-1.png
- This is a starting design
- I haven't added a banner to it which i plan to do
- I think this basically represents some parts of the wiki
- Did i mention i suck at photoshop? - [Pharos] 11:07, August 24, 2010 (UTC)
Ideas
If posting an idea, describe the design followed by the design name (optional) followed by your signature (~~~).
A white background with a light grey border wih a light shadow to the bottom right. All runes around a navy blue "RuneScape" over a burgundy "Wiki" with a reflection below it. - Original - Example