The Fossegrimen is a Fremennik spirit who can enchant a lyre; when played, the lyre will teleport the player to Rellekka. She can be summoned by using the offering of your choice on the strange altar to the south west of Rellekka.
Only players who have started or completed the Fremennik Trials quest may use this teleport. The Fossegrimen requires a raw shark as a tribute before she will enchant a lyre, or a raw bass when wearing the Ring of Charos (a) (you must have enchanted the lyre once before being able to use bass). Offering a raw shark will give the lyre 2 charges. A raw manta ray can also be offered to give the lyre 3 charges, and a raw sea turtle to give the lyre 4 charges. As a part of the Fremennik Trials, players must obtain an enchanted lyre from the Fossegrimen.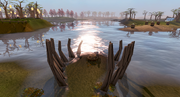 As the ring of Charos works on the Fossegrimen, she seems to be a simpler being than she appears.
While wearing or having Fremennik sea boots in your inventory and giving the gift for her, you will get two more charges - four for a shark/a bass, five for a manta and six for a turtle.
Dialogue
Trivia
The Fossegrimen is based on the mythical Fossegrimen, a Scandinavian spirit who lives in waterfalls and is neither good nor evil.
She cannot be talked to despite having such an option, as the player cannot reach her.
The ability to charm her into accepting a sea bass instead of a shark may be a reference to Dr. Evil, who asked for "sharks with frickin' laser beams attached to their heads" but whose researchers were only able to come up with mutated sea bass instead.
Community content is available under
CC-BY-SA
unless otherwise noted.