The Frog Princess is a frog that is transformed into a human, after the player kisses her to break the spell, during the Kiss the frog random event. If the player is a female, however, the frog turns into a Frog Prince instead.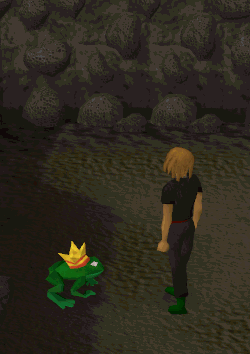 According to the Princess, she had been transformed into a frog by a wizard, who has an obsession with frogs.
Misthalin
Asgarnia
Kandarin
Kharidian Desert
Ape Atoll and Karamja
Hallowvale/Morytania
Fremennik
Wushanko Isles
Gnome Empire
Dwarven Realm
Elven Lords and Ladies
Land of Snow
 Queen of Snow
 Santa Claus
 Jack Frost
Yu'biuskian
Others
Community content is available under
CC-BY-SA
unless otherwise noted.