No Man's Sky Update - The Loop
Play Sound
Ghoul
Release
14 October 2004 (Update)
Members
No
Examine
It's totally savage.
Combat info
Level
LP
XP
XP
33
? (edit)
? (edit)
? (edit)
Equipment XP (2H/MH & Armour/OH)
? (edit)
Aggressive
Poisonous
Slayer
Level
XP
Category
1
? (edit)
Ghouls
Assigned by
Offensive
Max hit
184
0
0
0
Style
Speed

4 ticks (2.4s)

Combat levels
Defensive
Armour
Weakness
? (edit)
? (edit)
Affinities
? (edit)
? (edit)
? (edit)
? (edit)
Immunities
[FAQ] • [doc]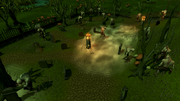 Ghouls are a humanoid race and the descendants of a long-dead society that degraded to the point that its people ate their dead.[1] They feed on the rotting flesh of bodies scavenged from grave sites and battlefields. Their appetite for dead bodies is the reason they are found just north of Canifis outside the mausoleum in the graveyard. Players can quickly reach ghouls by using the Canifis lodestone.
Ghouls are not undead. They are in fact still alive and immune to the effects of the Salve amulet and Salve amulet (e).
Although the race as a whole is almost completely mindless, at least one non-violent ghoul known as Gus appears to have intelligence comparable to that of a human.
These monsters can be killed for 38 Slayer experience each when on a Slayer assignment for ghouls. They do not hit well against players with high defences, although they will occasionally damage even players at quite high levels.
The graveyard is an excellent place to use a Dwarf Cannon, due to the many ghouls and their fast respawn. This strategy can yield a lot of ranged experience and Slayer if killed for an assignment.
A ghoul bone, a special drop, is necessary to collect during the Rag and Bone Man quest.
It it not advised to train combat here if the player is looking for the very best place to train; there are other options such as armoured zombies.
Location
In Morytania, north of Canifis in and around the graveyard leading to the mausoleum. The gravestones do not block ranged or magic and thus provide numerous Safe spots.
Champions' Challenge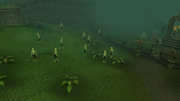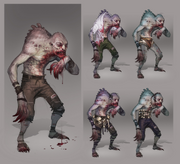 Ghouls are one of the 'races' who have lesser champions in the Champions' Challenge Distraction and Diversion. To fight the Ghoul Champion, the player must kill ghouls until one drops a Champion's scroll, a very rare drop.
Drops
100% drop
| | Item | Quantity | Rarity | GE price |
| --- | --- | --- | --- | --- |
| | Bones | 1 | Always | 266 |
Charms
No charm
79–80%
18–19%
0.7–0.8%
1%
0.1–0.2%
Represents a 90% confidence range based on a sample of 167,914 kills.
1 charm is dropped at a time.
Add data to the log (requires JavaScript).
Other drops
Universal drops
Universal drops are dropped by nearly every monster outside of Daemonheim.
These drops are dropped alongside main drops.
References