The Give Thanks emote was given out by finding all ten Hidden Turkeys during the 2008 Thanksgiving event, killing turkeys during the event, or completing the entire event. It was also the reward for completing the subsequent Thanksgiving events. When used, players will start to flap their hands as if they had wings, turn into a turkey, dance around, and transform back.
With the completion of the 2011 Thanksgiving event, this emote can be enhanced. The enhanced emote can be performed by equipping a herald cape with the turkey crest on it. In the enhanced emote, the player's right hand becomes a turkey drumstick and they fall down, then the rest of their body turns into a roasted turkey. After brief period of time, the player becomes human again and stands up, their arm still a drumstick. The player then pulls on the drumstick with their left hand on the bone, and the drumstick comes off. The player then examines their arm for a moment.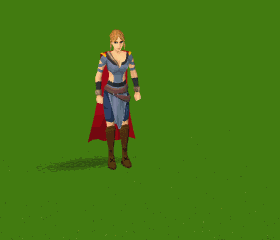 Holiday and seasonal events
Quests(m) and Achievements

Explore

Goblin Bow
(m)

Goblin Salute
(m)

Troubadour Dance
(m)

Cape
(m)
Air Guitar
(m)

Taskmaster
(m)

Demonic Rock Off
(m)

Pulled Away
(m)

Hefin Lotus
(m)

Hefin Bow
(m)

Hefin Ward
(m)

Hefin Crane
(m)
Emotes or categories marked with an (m) are members-only emotes but can also be used on free worlds if previously unlocked.
NPCs
Items
Reward
Give Thanks
NPCs
Rewards
Give Thanks
Related
Monster
Items
Rewards
Give Thanks
 Turkey hat
Events
2014-2016 Thankgiving events

Events
NPC
 Cook's brother
Turkeys
Item
 Turkey book
Rewards
Give Thanks
 Mackers (m)
 Herald cape (turkey crest)
 Turkey drumstick override (2015)
Community content is available under
CC-BY-SA
unless otherwise noted.