The Gluttonous behemoth is a Dungeoneering boss and one of the first bosses players can encounter in the frozen floors (1-11).
According to the behemoth notes that may be dropped on the beast's death, there are more behemoths to be found throughout the dungeon. Only the ones with thick hides were sent to the top as guards. Due to the cold, there would barely be any food, making them more aggressive and able to fight for more. The other behemoths can be found deeper in the dungeon.
The fight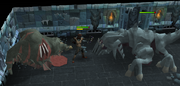 After losing half of its life points, it starts to rapidly heal itself back to maximum health by eating the bovimastyx carcass(es) in the boss room. The only way to prevent it from healing is by standing between the behemoth and its food source(s). If only one player is in the party at the start of the dungeon, then there will only be one carcass. If there are two or more people in the party, then there will be two carcasses which need to be blocked by one player each. The behemoth can heal itself only once per floor.
Standing under the behemoth will cause it to stomp the player and deal damage. For some reason the damage done by the stomp attack does not count as the player being in combat, so it is possible to cast home teleport while standing under the behemoth.
Levels
| Level | Life points |
| --- | --- |
| 1 | 500 |
| 35 | 12500 |
| 43 | 15500 |
| 51 | 18500 |
| 70 | 25000 |
Drops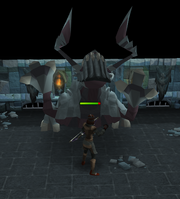 Trivia
Occasionally, the Gluttonous behemoth disappears while attacking it with Soul Split activated. This has not been fixed.
The experience gained from attacking the Gluttonous behemoth was similar to that of a sandbag found in Lumbridge, to discourage players training their combat skills with no risk against a monster with potentially infinite life points. This was changed when the behemoth was limited to healing once per floor.
Community content is available under
CC-BY-SA
unless otherwise noted.