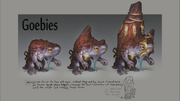 Goebie(s) are a new race that will be included with the introduction of a future update, "Raids", where the player will have to protect them. A Goebie-related quest is slated to be released in mid-2015, which will further explain their lore.
They do not die of old age, but instead are killed once the rock growing on their body becomes too heavy for them to carry.[1] The rocks on their backs contain their lungs, so attempts to chip away at the rock to keep them alive longer will instead kill them.[2] Despite being mostly composed of rock, Goebies can be eaten.
When near another Goebie, they will greet each other by name. Possibilities include Maxwell, Wayne, Kyle, Dermot, Poddle, Denzel, Rupert, Tod, Dean, Lump, Lola, Danny, Sasha, Stu, Cliff, Theresa, and Wedge. Even though the list includes conventional male and female names, Goebies are not gendered. "Gaben" was the winner of a straw poll of player-submitted names conducted on a livestream, and will be featured in-game.[2]
References