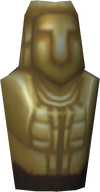 A golden idol can be obtained by mining an idol crablet with a Mining level of 98, granting 5,250 Mining experience, or from catching a salty orokami. It can be sold to Salty Goods for 50 chimes and bought back for 500 chimes.
Two golden idols are a requirement for purchasing an idol crabletine token from Boni. They are consumed upon purchasing the token.
Mining
[view]
•
[talk]
Drop sources
This list was created dynamically. For help, see the FAQ.
To force an update of this list, click here.
For an exhaustive list of all known sources for this item, see here.
Store locations
Salty Goods
Merchant
Yi Yan
Island
Waiko
Price sold at

500

Prices bought at
Base value

50

First upgrade

55

Second upgrade

60
[view]
•
[talk]
NPCs
Enemies
Resources
Scenery
Decorations
Community content is available under
CC-BY-SA
unless otherwise noted.