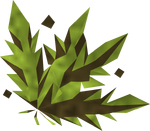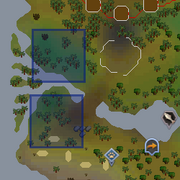 Grimy snake weed is a herb found by searching a marshy jungle vines. It can be cleaned to obtain Clean snake weed, but only after starting the Jungle Potion quest. It is a secondary ingredient in herblore used with rogue's purse to make Relicym's balm potion. It is also used as secondary ingredient to make Sanfew serum. Adding the herb to a vial of water will produce a snakeweed mixture. Cleaning the herb yields 2.5xp.
Twenty marshy jungle vines are found south-west of Tai Bwo Wannai in west Karamja, just west of the Karamja hunter area. Grimy snake weed is also a common drop from Jogres, which is very convenient for players with higher combat levels who are trying to make Relicym's Balm, as many reside in the cave where the other needed herb, Rogue's Purse, is found. It can also sometimes be found inside barrels.
Drop sources
This list was created dynamically. For help, see the FAQ.
To force an update of this list, click here.
For an exhaustive list of all known sources for this item, see here.
Disassembly
NPCs
Enemies
Items
Locations
Music
Miscellaneous
Normal
Special
Dungeoneering
Herblore Habitat
Gielinor Games (discontinued)
Community content is available under
CC-BY-SA
unless otherwise noted.