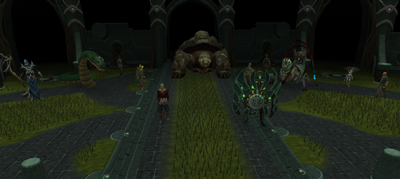 The Guardians of Guthix are a group of creatures chosen by Guthix himself, who were his trusted and empowered companions while he walked the world at the end of the Third Age. As he headed to sleep, he assigned some guardians to guard important locations (in the case of Fiara, Juna, and Cres) or philosophies (in the case of Valluta, Death, and potentially Ocellus) of the Guthixian religion at the end of the Third Age. According to Mod Osborne, there were originally as many Guardians as standing stones in a druids' circle, totalling eight.[1] Some of the Guardians are blessed with great power and/or wisdom on Gielinor, greater even than some low-tier gods and divine beings.
Known Guardians
Trivia
There have been other Guardians of Guthix whose identities and fates are currently unknown.[3]
References
Community content is available under
CC-BY-SA
unless otherwise noted.