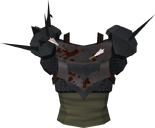 The gud raider chainbody is part of the Raider equipment set. It is obtained by killing Hollowtoof, leader of the goblin raids. It requires a Defence level of 55 in order to equip. It is tied with the Rune platebody for the second-strongest piece of melee body armour available to free-to-play, behind only the degradable corrupt dragon chainbody. In addition, it is currently the only piece of melee armour available to free players that carries a damage bonus.
Drop sources
This list was created dynamically. For help, see the FAQ.
To force an update of this list, click here.
For an exhaustive list of all known sources for this item, see here.
| Source | Combat level | Quantity | Rarity |
| --- | --- | --- | --- |
| Hollowtoof | 77 | 1 | Rare |
Disassembly
Tank
Power
Barrows
Minigame
 Sacred clay
Promotional
 Starfury
 Starfury
Trimmed
 Black
 Adamant
 Rune
Gold trimmed
 Black
 Adamant
 Rune
Black heraldic
Adamant heraldic
Rune heraldic
Rune god
Dragon
 Ornamental
 Spiked
Dyed
Other
 Bandos robe
 Gilded
 Third-age