Walkthrough
Start point

Talk to Ariane at the entrance to the Wizards' Tower
Member requirement
Members only
Official difficulty
Intermediate
Official length
Long
Requirements
Skill requirements are not boostable unless marked with a [B] for boostable.

Quests:

It is recommended but optional to complete the following quests for full storyline comprehension:

Quests:

Items required
Items from the tool belt are not listed unless they do not work or are not automatically added.

Food and armour (fight several enemies level 32-56 preferably with Ranged or Magic)

Recommended
Enemies to defeat
Kipple
Dismiss any followers now.

If you recently completed Carnillean Rising, you might have to re-log to start the quest.

Interact with Xenia at the Wizards' Tower entrance.
End their fight.
On the east side of the Wizards' Tower, talk to Ariane.
Talk to Kipple.
Solve the puzzle.
Dismiss any followers now.
Talk to Kipple and note the location he tells you.
Karamja
Items needed: Combat equipment
Items recommended: Food
Head to the Karamja Volcano.
Right-click open tracker with Kipple.
Enter the portal.
Kill attendants while avoiding the fires.
Talk to FulKra.
Talk to Kipple.
Entrana
Travel to the north half of Entrana, east of the dungeon entrance.
Right-click open tracker with Kipple.
Enter the portal and open the Bik door.
Equip a weapon (three basic weapons are provided) and kill the attendants while staying close to Kipple.
Once Kipple has placed 3 attendants by the door, light them.
Talk to BikKra.
Talk to Kipple.
White Wolf Mountain
Click the circuit nodes until you match the power. Note some nodes will remove power.
Talk to WenKra.
Talk to Kipple.
Desert
Items needed: 20 free inventory slots
Head south and enter the portal.
Search any shelf.
Combine the following:

Correction with Transition
Dispersal with Arrival
Evolution with Imprinting
Predator with Focus
Conflict with Condemnation

Combine Ariane and the Golem and Golem and I.
Use the 4 combinations on JasKra.
Talk to JasKra.
Talk to Kipple.
Final fight
Items needed: Combat equipment and food
Items recommended: Air spells
Head to the Lumbridge cemetery, south of the church.
Enter the portal for a cutscene.
Defeat the boss:

The boss can hit up to 2,900 damage.
Do not attack the prehistoric abyssal yet, avoid his energy balls.
Keep running around the cave until Kipple finds the correct spot.
Destroy 3 abyssal anchors in total.
Watch the cutscene.
Kill the prehistoric abyssal as normal.

Talk to Ariane. Skip dialogue.
Quest complete!
Rewards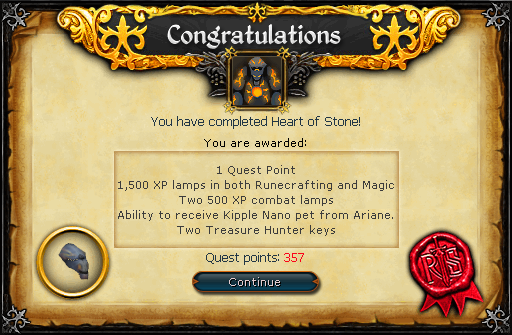 Additional rewards/activities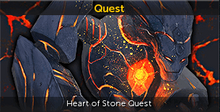 Music unlocked
NPCs
Enemies
Items
Rewards
Locations
Music
Miscellaneous
Quick guide • Transcript
Community content is available under
CC-BY-SA
unless otherwise noted.