Fire Emblem Warriors: Three Hopes - The Loop
Play Sound
See Skill mastery for a discussion of level 99 and lists of historical "firsts".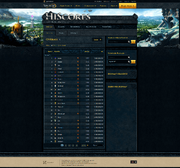 The HiScores is a website feature in which players are ranked by their experience in skills. The HiScores are updated with a player's stats each time they log out or leave to the lobby, with the exception that a player's hiscores do not update if they are automatically logged out of the game due to a system update.
The HiScores include a free-to-view Application Programming Interface (API) which can be used to track players, their clans and seasonal activities.
Skills
Conditions
For players to appear on the HiScores:
They must have a minimum skill level of 15 in the skill (2,411 experience points).

A minimum of 2,154 experience points is required to appear in the "Overall - All Time" table.
At least 1,000 experience points within the relevant time frame is required to appear in a weekly or monthly hiscore table.

The account must not be banned or locked. Banned/locked accounts are removed from the HiScores. If an account is unbanned/unlocked, it appears on the HiScores again.
Jagex Moderator accounts (on which they can change stats and spawn items) do not necessarily appear on the HiScores. Most of these accounts begin with the word "Mod" except for Andrew, Paul, and Ian. Jagex Moderators' real private accounts, however, do appear on the HiScores. These are just regular accounts with no special powers that Jagex Moderators play on for fun.
In order for a free-to-play account to appear in the HiScores, it must have logged in at least once since the update on 31 March 2014 which granted free players access to the HiScores again.
Minimum levels
In order to appear in the HiScores, a player must have achieved level 15 in a skill, unless more than two million players are already ranked. In that case, a player must have enough experience in the skill such that they are in the top two million players. The following table shows the current minimum levels for each skill to be ranked on the HiScores.
| Skill | Minimum level | Minimum rank | Skill | Minimum level | Minimum rank |
| --- | --- | --- | --- | --- | --- |
| | 36 | 1,930,165 | | 15 | 1,315,698 |
| | 15 | 1,308,946 | | 15 | 1,307,430 |
| | 15 | 1,500,945 | | 15 | 1,131,284 |
| | 15 | 1,173,592 | | 15 | 1,203,700 |
| | 15 | 1,206,248 | | 15 | 1,283,089 |
| | 15 | 862,013 | | 15 | 1,130,760 |
| | 15 | 1,198,979 | | 15 | 1,060,795 |
| | 15 | 1,151,314 | | 15 | 1,223,996 |
| | 15 | 765,861 | | 15 | 881,227 |
| | 15 | 859,929 | | 15 | 816,989 |
| | 15 | 659,274 | | 15 | 917,728 |
| | 15 | 694,329 | | 15 | 727,500 |
| | 15 | 642,359 | | 15 | 806,930 |
| | 15 | 506,313 | | 15 | 184,872 |
Clans
Clan HiScores were introduced in an update on 12 April 2011. It contains information about all clans registered at the Clan Camp.
It includes:
The total skill levels of all clan members
The total amount of XP gained in each skill by all clan members since joining the clan
The total level of all clan members
The total amount of XP gained by all clan members since joining the clan
The total combat level of all clan members
The total amount of players that clan members killed in the wilderness since joining the clan
The total amount of times clan members died since joining the clan
The number of players in the clan
The number of Rated Clan Wars points the clan has in both free and members rated Clan Wars
The kill/death ratio of the clan
Players are able to sort them by any category.
Seasonal
Seasonal HiScores were released along with RuneScape 3. They take place over allotted periods of time, and can involve various types of content, including boss kills, deaths, and amount of coins donated. Current Seasonal HiScores can be viewed through the Community Tab of the Control Panel, and both previous and past hiscores can be viewed on the RuneScape website.
Winners are rewarded with the Crown of Supremacy, which becomes the Crown of Legends when the Seasonal Hiscore ends. Along with the crown, players also unlock an emote and a new title corresponding to the competition that they won.
Activities
Minimum scores
Minigames set the minimum "level" needed to be ranked differently, according to the scoring system. See the table below.
Former HiScores
The following hiscores have been removed, but had the given minimum scoring to be ranked while active.
History
The original HiScores table was updated weekly with players' ranks overall, levels, experience, and change in rank. It recorded the top 2,000 players. The Hiscores have also had the number of recorded players gradually increase over the years; it was changed to a maximum of 500,000 on 24 May 2004, a maximum of 1,000,000 on 25 August 2005, and finally a maximum of 2,000,000 on 9 July 2008.
The HiScores have been reworked multiple times, including on 21 November 2003 (Update:Hiscores Reborn!), on 30 January 2006 (Update:New Look Hiscores), and on 22 November 2011 (Update:RuneScape Revolution).
It was announced on 15 November 2011 that from week commencing 21 November 2011, the hiscores would be no longer be available to free players, in order to remove dormant accounts from the hiscores and give new paying members a chance to get high on the scores. This caused a significant amount of controversy on the RuneScape Forums.
On 22 November 2011, the re-structure was implemented, making it a members'-only feature. When a term of membership elapsed, there was a 14 day grace period in which the account would remain on the hiscores. After this period, the account would not be shown on the hiscores until it was re-subscribed. This re-structure lowered the minimum requirement to be ranked in a free-to-play skill from 30 to 15.
After a Power to the Players poll decided that free-to-play players should once again have access, they were added in an update on 31 March 2014.
Gallery
Trivia
In 2006, before its release, an early picture of the Dragon pickaxe could be found at the top of the HiScores.
Hunter, Summoning, and Mobilising Armies were temporarily leaked to the HiScores before they were officially released.
On May 2012, S U O M I wrapped around the overall XP counter. Because of this happening, it can be assumed that Jagex uses 4 bytes to store the value of overall experience on the HiScores.
External links