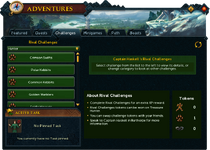 The Hunter challenge token was an item won in Treasure Hunter between 12 September 2014 to 15 September 2014 that could be used to complete Captain Haskell's faster, but less rewarding challenges. It could also be exchanged for 1 Raffle ticket at the rate of 10:1 twice a day.
Activating a token caused it to turn into the Hunter challenge token (active) and become unstackable. It could be reverted anytime by right clicking and selecting "Abandon" at the cost of losing progress.
They could be traded, but only for the same amount of other tokens.
Tasks
Players can pick any one of these tasks. Reward experience is the same regardless of which task is chosen and based on the Skill level.
Creature
Number
Crimson swift
4
Polar kebbit
7
Common kebbit
10
Golden warbler
3
Feldip weasel
6
Copper longtail
3
Cerulean twitch
3
Desert devil
6
Ruby harvest
22
Tropical wagtail
5
Wild kebbit
4
Sapphire glacialis
22
Impetuous Impulses I
Baby, Young, Gourmet
18
Spined larupia
4
Barb-tailed kebbit
10
Snowy knight
21
Impetuous Impulses II
Young, Gourmet, Earth
18
Prickly kebbit
10
Stealing Creation
Class 3+ swarms
3
Horned graahk
4
Impetuous Impulses III
Gourmet, Earth, Essence
17
Spotted kebbit
38
Penguin
21
Razor-backed kebbit
6
Impetuous Impulses IV
Earth, Essence, Eclectic
14
Sabre-toothed kebbit
6
Sabre-toothed kyatt
3
Dark kebbit
23
Impetuous Impulses V
Essence, Eclectic, Nature
12
Impetuous Impulses VI
Eclectic, Nature, Magpie
9
Dashing kebbit
22
Jadinko
Herblore Habitat
4
Imp
4
Charm sprite
44
Community content is available under
CC-BY-SA
unless otherwise noted.