The Ice Troll Caves can be found north of Jatizso and Neitiznot. To enter the caves, players need to have completed parts of The Fremennik Isles quest. Six Honour guards can be found fighting Trolls in the northern most cave. The Ice Troll King is also found in this cave. After the completion of The Fremennik Isles, the caves can only be accessed using the western entrance and the Ice Troll King no longer appears.
Monsters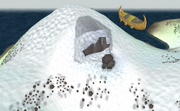 Personalities
Music
Asgarnia
Kandarin
Karamja
Kharidian Desert
Misthalin
Morytania
Fremennik Province
Feldip Hills
Wilderness
Troll Country & The North
Ice Troll Caves
Keldagrim
Tirannwn & Galarpos
Elite dungeons
Others
Community content is available under
CC-BY-SA
unless otherwise noted.