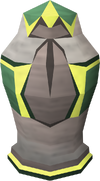 An impious urn (r) is obtained by using an air rune on an impious urn (nr). It can only hold impious ashes, and acts as a temporary bonecrusher of sorts whilst killing icefiends, imps, killerwatts, and pyrefiends. The urn is filled after the player would have earned 100 Prayer experience, after which its name changes into impious urn (full).
Creation
Impious urn (r)
0 XP
1 XP
-
Requirements
Crafting level
2
Members only
No
Materials
Item
Quantity
Price
Total
Impious urn (nr)
1
264
264
Air rune
1
90
90
Total price
354
Disassembly
Cooking
Divination
Farming
Fishing
Hunter
Mining
Prayer
 Impious
 Accursed
 Infernal
Runecrafting
Smithing
Woodcutting
Community content is available under
CC-BY-SA
unless otherwise noted.