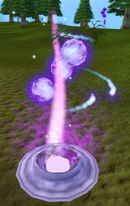 An incandescent wisp is a tier 12 wisp harvested in the Divination skill. Upon being harvested, it will transform into an incandescent spring, from which incandescent memories and incandescent energy may be gathered.
Each harvest of an incandescent wisp yields 12 divination experience, 24 if an enriched incandescent memory is harvested. Harvesting incandescent wisps can give up to 97,000 experience an hour with level 99 Divination, using bought energy, or around 82,000 experience an hour using only harvested energy. When using a light creature familiar the experience rate is over 110,000 experience per hour.
Getting there
Gathering

Wisps
Springs
Memories
 Pale
 Dragonkin
 Mah
Energy
Boons
Chronicles
 Chronicle fragment
 Elder chronicle
Cores
Rifts / sources
Community content is available under
CC-BY-SA
unless otherwise noted.