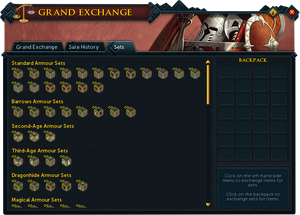 Item sets are used in the Grand Exchange to "compress" several components into a set. This makes it possible to trade an entire set at once on the Exchange, instead of being forced to trade each component individually. The only way to create sets from individual components is by swapping the pieces for the set with a Grand Exchange clerk.
Almost all sets consist of sets of armour. Not all types of armour, however, have sets. Snakeskin armour, for example, does not have a set.
Features
Item sets are a convenient way to store and trade complete sets. The advantage of using item sets, is that sets are only one item, instead of the 3-5 pieces that make up the set. This saves trade slots at the Grand Exchange, of which there is a limited number, and allows the set to be traded as a whole, instead of waiting for each piece to be bought or sold individually. Item sets can also be used as a more efficient storage means, as they only take up one bank space instead of four, and many players find they must conserve space.
For each standard or trimmed metal armour set, there are two types of sets. One type, denoted by an "(lg)" suffix (meaning "legs"), contains a platebody, platelegs, full helmet, and kiteshield. The other type, which has an "(sk)" suffix (meaning "skirt"), contains the same items, except the platelegs are substituted with a plateskirt. All other armour sets without separate leg and skirt pieces only have one variation.
Sets and their components are not identical in terms of alchemy price, however the High Level Alchemy value for sets is 12 coins, and the Low Level Alchemy value is 8 coins.
Item sets interface
To create item sets, players must bring the un-noted components for the set they wish to make to a Grand Exchange clerk. Each clerk has a right-click option called "Sets" which must be chosen to bring up the "Item sets" interface. On this interface, the available item sets are listed. To check the components that make up a given set, players select the "Components" option on the set from the right-click menu (or through a single left-click). If a player has each of the components necessary in their inventory, he or she can select the "Exchange" option, which will swap the components for the set.
Turning a set into its individual components involves a similar process. Instead of right-clicking on the sets in the interface, players do the same on the sets in their inventory and select the "Exchange" option.
There is no other way to turn a set into its components, or vice versa, except through the Item sets interface.
Limitations
To create item sets, each component of the set must be un-noted in the player's inventory.
Barrows equipment sets can only be made from undamaged armour.
Sets
Standard sets
Prayer sets
Black armour sets
Elite armour set
Adamant armour sets
Runite armour sets
Ranged armour sets
Trimmed ranged armour sets
Blessed ranged armour sets
Magical armour sets
Fremennik armour sets
Barrows armour sets
God armour sets
Third-age armour sets
Second-age sets
Nex armour sets
Dwarf cannon set
The only item set that is not an armour set is the Dwarf multicannon.
Godwars Armour Sets
Trivia
Some players scam by offering a rune or trimmed rune set for lower than it is worth, then closing the trade box (as if due to lag). After a few more times of attempted trading for authenticity, they offer a mithril set, which is the same colour.
On 24 April 2012, 75 item sets were removed from the Grand Exchange.
"
We've removed some "set" objects from the Grand Exchange. The current version of the Grand Exchange allows all items listed to determine their own price, but some of these sets were struggling to follow the price of their components, leading to scamming, and feedback from you about the discrepencies. We've kept the ones that are useful for basic armour on the GE, but removed some of the more collectable trail type sets. You can still create, trade in, trade player to player and store in your bank those set items that are removed from the Grand Exchange. Any outstanding offers will be cancelled. The guide prices of the sets will be updated to more closely resemble the components of the set with the next game update.
"
 
Standard

Melee

| | |
| --- | --- |
| Plateleg sets | |
| Plateskirt sets | |

Ranged
Magic

Treasure Trails

Melee

| | |
| --- | --- |
| Plateleg sets | |
| Plateskirt sets | |

Ranged
Magic
Prayer
 Third age

Barrows
God Wars Dungeon
Others
Community content is available under
CC-BY-SA
unless otherwise noted.