Jack Frost is the mischievous prince of the Land of Snow, son of Lumi and Nicklaus, and an ice sprite. He is 44 years old, but due to ice sprites' slow rate of aging, he has the mental and physical age of 17. Jack Frost was kicked out of the Land of Snow because he misbehaved. In the 2008 Christmas event, he bombarded the land with snow, but the player saved the day.
Jack Frost was not seen throughout most of the 2009 Christmas Event. He had apparently taken up ice sculpting and still shows resentment towards the player.
He also appeared in the 2011 Easter event, trading insults and taunting the Easter Bunny, the 2013 Christmas event, and in the 2015 Christmas event, during which he and others had disappeared and the player had to find them.
Family
Trivia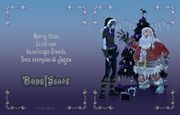 Jack Frost is based off a fictional character bearing the same name.
In the 2011 Easter Event he argues with the Easter Bunny. When the Easter Bunny says that people actually want eggs instead of 'frost on their windows', he responds, "Yeah? Well I heard people don't even eat easter eggs! They just leave them in their banks for years!" This is a reference to the fact that easter eggs are tradeable rares - no one eats them due to their high value.
NPCs
Items
Rewards
Locations
Music
Scenery
Misthalin
Asgarnia
Kandarin
Kharidian Desert
Ape Atoll and Karamja
Hallowvale/Morytania
Fremennik
Wushanko Isles
Gnome Empire
Dwarven Realm
Elven Lords and Ladies
Land of Snow
 Queen of Snow
 Santa Claus
 Jack Frost
Yu'biuskian
Others
Community content is available under
CC-BY-SA
unless otherwise noted.