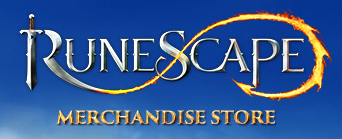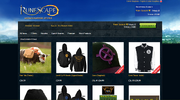 The Jagex Store is an online store owned by Jagex. The store mainly sells official RuneScape-related merchandise.
The store is separated into five categories (T-Shirts, Hoodies, Caps & Beanies, Premium, and Other). The store home page displays several featured and sale items. The store region can be changed using a menu accessed by clicking on the flag at the top right of the page, above the shopping basket.
Each category shows the name and thumbnail of all the items it contains on one summary page. More information, including sizes/styles can be discovered by clicking on the item name.
Available merchandise
T-shirts
Item name
Full Price
GBP
EUR
USD
CAD
AUD
Worst Update Ever (Black) (T-Shirt)
£15.99
€18.99
$19.99
$19.99
$19.99
My Other Shirt is Trimmed (Blue) (T-Shirt)
£15.99
€18.99
$19.99
$19.99
$19.99
Eat, Sleep, Scape, Repeat (Black) (T-Shirt)
£15.99
€18.99
$19.99
$19.99
$19.99
Guthix (Dark Chocolate) (T-Shirt)
£15.99
€18.99
$19.99
$19.99
$19.99
Zaros (Black) (T-Shirt)
£15.99
€18.99
$19.99
$19.99
$19.99
Zamorak (Black) (T-Shirt)
£15.99
€18.99
$19.99
$19.99
$19.99
Sliske (White) (T-Shirt)
£15.99
€18.99
$19.99
$19.99
$19.99
Seren (Black) (T-Shirt)
£15.99
€18.99
$19.99
$19.99
$19.99
Saradomin (White) (T-Shirt)
£15.99
€18.99
$19.99
$19.99
$19.99
Godless (Maroon) (T-Shirt)
£15.99
€18.99
$19.99
$19.99
$19.99
Bandos (Military Green) (T-Shirt)
£15.99
€18.99
$19.99
$19.99
$19.99
Armadyl (Orange) (T-Shirt)
£15.99
€18.99
$19.99
$19.99
$19.99
I Am Deadman (T-Shirt)
£15.99
€18.99
$19.99
$19.99
$19.99
Old School Red Logo (T-Shirt)
£15.99
€18.99
$19.99
$19.99
$19.99
Constitution Skill (T-Shirt)
£15.99
€18.99
$19.99
$19.99
$19.99
Herblore Skill (T-Shirt)
£15.99
€18.99
$19.99
$19.99
$19.99
Magic Skill (T-Shirt)
£15.99
€18.99
$19.99
$19.99
$19.99
Defence Skill (T-Shirt)
£15.99
€18.99
$19.99
$19.99
$19.99
Slayer Skill (T-Shirt)
£15.99
€18.99
$19.99
$19.99
$19.99
Attack Skill (T-Shirt)
£15.99
€18.99
$19.99
$19.99
$19.99
Japanese Dragon (T-Shirt)
£15.99
€18.99
$19.99
$19.99
$19.99
Oblivinite Old School Atlas (Charcoal) (T-Shirt)
£15.99
€18.99
$19.99
$19.99
$19.99
Gnome Child (T-Shirt)
£15.99
€18.99
$19.99
$19.99
$19.99
Old School Logo (Full Print) (T-Shirt)
£15.99
€18.99
$19.99
$19.99
$19.99
To The Wilderness (T-Shirt)
£15.99
€18.99
$19.99
$19.99
$19.99
PK Skull (T-Shirt)
£15.99
€18.99
$19.99
$19.99
$19.99
Level Up 99 (Cardinal Red) (T-Shirt)
£15.99
€18.99
$19.99
$19.99
$19.99
Level Up 99 (Black) (T-Shirt)
£15.99
€18.99
$19.99
$19.99
$19.99
Health Bar (T-Shirt)
£15.99
€18.99
$19.99
$19.99
$19.99
Evolution (T-Shirt)
£15.99
€18.99
$19.99
$19.99
$19.99
1v1 Me In The Wildy (Heather Green) (T-Shirt)
£15.99
€18.99
$19.99
$19.99
$19.99
Logo (T-Shirt)
£15.99
€18.99
$19.99
$19.99
$19.99
Noob (T-Shirt)
£15.99
€18.99
$19.99
$19.99
$13.50
1v1 Me In The Wildy (Black) (T-Shirt)
£15.99
€18.99
$19.99
$19.99
$19.99
Let's Party (T-Shirt)
£15.99
€18.99
$19.99
$19.99
$19.99
Hoodies
Item name
Price
GBP
EUR
USD
CAD
Old School (Zipped) (Zipped Hoodie)
£29.99
€35.99
$39.99
$39.99
Level Up 99 Hoodie (Zipped Hoodie)
£29.99
€35.99
$39.99
$39.99
Noob Hoodie (Zipped Hoodie)
£29.99
€35.99
$27.99
$39.99
Let's Party Hoodie (Zipped Hoodie)
£29.99
€35.99
$39.99
$39.99
Caps & Beanies
Item name
Price
GBP
EUR
USD
CAD
AUD
Seren (Snapback)
£24.99
€34.99
$34.99
$34.99
$22.99
Bandos (Snapback)
£24.99
€34.99
$34.99
$34.99
Saradomin (Snapback)
£24.99
€34.99
$34.99
$34.99
Armadyl (Snapback)
£24.99
€34.99
$34.99
$34.99
Zaros (Snapback)
£24.99
€34.99
$22.99
$34.99
Health Bar Cap (Baseball Cap)
£12.99
€
$
$
Health Bar Beanie (Beanie)
£9.99
€11.99
$9.49
$13.99
Premium
Item name
Price
GBP
EUR
USD
CAD
AUD
Pack Yak (Plushie)
£24.99
€32.49
$37.49
$39.99
$37.45
Crest (Varsity Jacket)
£39.99
€
$
$
More Products
Item name
Price
GBP
EUR
USD
CAD
AUD
Eat Sleep Scape Repeat (Product)
£3.99
€5.99
$5.99
$6.99
$3.99
World Map (Poster)
£3.99
€5.99
$5.99
$6.99
Bumper Sticker Discount Pack (Stickers)
£19.99
€27.99
$27.99
$29.99
$
Bumper Sticker - Level 99 Driving (Stickers)
£3.99
€5.99
$5.99
$6.99
$3.99
Bumper Sticker - Phr33 Stuff (Stickers)
£3.99
€5.99
$5.99
$6.99
$3.99
Bumper Sticker - Old School Logo (Stickers)
£3.99
€5.99
$5.99
$6.99
$5.99
Bumper Sticker - RuneScape Logo (Stickers)
£3.99
€5.99
$5.99
$6.99
$5.99
Bumper Sticker - Maxed Car (Stickers)
£3.99
€5.99
$5.99
$6.99
$5.99
Bumper Sticker - Dancing for Money (Stickers)
£3.99
€5.99
$5.99
$6.99
$5.99
RuneScape Tea Mug (Mug)
£10.99
€15.49
$15.49
$17.99
$15.49
RuneScape Coffee Mug (Mug)
£10.99
€13.99
$13.99
$16.49
Skills Badge Set (Button Badges)
£4.99
€5.99
$6.99
$6.99
$6.99
Gods Badge Set (Button Badges)
£4.99
€5.99
$6.99
$6.99
$6.99
RuneScape Badge Set (Button Badges)
£4.99
€5.99
$6.99
$6.99
$
Old School Badge Set (Button Badges)
£4.99
€5.99
$6.99
$6.99
$
Gnome Child Old School (Mug)
£9.99
€13.99
$13.99
$16.49
$13.99
Official Logo (Mug)
£9.99
€13.99
$13.99
$16.49
$13.99
Purple Party Hat (Party Hat)
£5.99
€7.99
$7.99
$9.99
$7.99
Blue Party Hat (Party Hat)
£5.99
€7.99
$7.99
$9.99
$7.99
White Party Hat (Party Hat)
£5.99
€7.99
$7.99
$9.99
$7.99
Yellow Party Hat (Party Hat)
£5.99
€7.99
$7.99
$9.99
$7.99
Red Party Hat (Party Hat)
£5.99
€7.99
$7.99
$9.99
$7.99
Green Party Hat (Party Hat)
£5.99
€7.99
$7.99
$9.99
$7.99
Poster Bundle - Drakan and Invention Workshop (A3) (Poster)
£9.99
€13.99
$13.99
$16.99
$13.99
Dragon Dagger (p++) (Foam Dagger)
£19.99
€29.99
$29.99
$39.99
$29.99
Invention Workshop (A3) (Poster)
£4.99
€6.99
€6.99
$8.99
$8.99
Drakan (A3) (Poster)
£4.99
€6.99
€6.99
$8.99
$8.99
Varrock (Mousemat)
£7.99
€10.99
$10.99
$10.99
$10.99
Map (Mousemat)
£7.99
€10.99
$10.99
$10.99
$10.99
PK Skull (Black) (Tote Bag)
£6.99
€9.99
$9.99
$9.99
$9.99
PK Skull - Flexible (Keyring)
£3.99
€5.49
$5.99
$5.99
Fire Rune - Flexible (Keyring)
£3.99
€5.49
$5.99
$5.99
$5.99
Rune Badge Set (Button Badges)
£4.99
€5.99
$6.99
$6.99
$6.99
Monsters of RuneScape (Deck 1) (Battle Card Set)
£5.99
€8.00
$10.00
$10.00
$10.00
History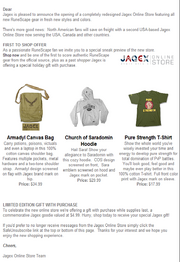 External links