The Kal'gerion dungeon is a resource dungeon on the south-western side of the Daemonheim peninsula.
Players require 90 Dungeoneering to enter the dungeon, and will be granted 17,500 Dungeoneering experience upon their first entrance.
Getting there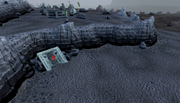 The hoardstalker ring obtained from sinkholes is the most convenient method of reaching the dungeon. It is also very close to the Wilderness entrance to Daemonheim. Players can also use the ring of kinship and run south-west of their location to reach the dungeon. It can also be reached via the Wilderness, however players cannot pass into Daemonheim if they are in combat, but it is not that far from the border area.
Inside the resource dungeon
Inside is a cavern similar to the Chaos Tunnels that contains 13 Kal'gerion demons, which players can kill for their valuable drops and most notably, demon slayer equipment.
There are also 10 Kal'gerion gem rocks situated near the north-western corner, which hold gems up to dragonstone.
Kal'gerion demons
This place is the one of two locations where Kal'gerion demons can be found. They are similar to the respective bosses inside the Daemonheim dungeons, although they are fought differently.
Trivia
There was a glitch where borders of the dungeon are missing, allowing players to noclip behind walls. In addition to noclipping through the walls, many of the rocks that litter the dungeon can be noclipped through. This has since been fixed.
In the North-West corner, a robed figure known as Dark Squall may appear. He will utter a phrase and will only stay for about 5 seconds before disappearing.
Community content is available under
CC-BY-SA
unless otherwise noted.