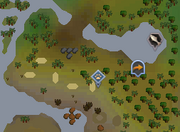 The Karamja Hunter area is located west of Shilo Village, on the western coast of Karamja. Players with 41 Hunter can catch horned graahks here via pitfall trapping, granting 240 experience each. Using the Spirit graahk's teleport is the fastest way of reaching the Hunter area; players may also teleport to fairy ring CKR or the Brimhaven lodestone.
Trapping horned graahks requires a teasing stick, logs, and a knife. Graahks may drop either graahk fur or tatty graahk fur, used in making graahk hunter gear and spirit graahk pouches.
Surface
Minigames
Community content is available under
CC-BY-SA
unless otherwise noted.