Keep Le Faye is a keep south of Seers' Village. It plays a relatively large role in the Merlin's Crystal and King's Ransom quests. The keep is the home of Morgan Le Faye. It is the base of the Renegade Knights and sees to a small amount of trade with Catherby.
Location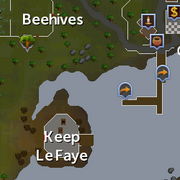 Keep Le Faye is located on the east coast of Kandarin. It is built on a peninsula. The fishing town of Catherby is north, the Sorcerer's Tower to the west, and the Legends' Guild to the south. To the south-west is the capital of Kandarin, the large city of Ardougne.
Transportation
Since the front door is locked for security reasons, the only way to get inside is via the crate outside the Candle Shop in Catherby. After hiding in it, and clicking through the dialogue, one will arrive at the trading dock.
Structure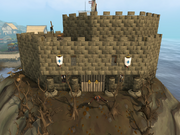 The Building is fairly large, with three floors and a basement
Basement
The basement can only be entered in King's Ransom, which reveals it is actually the family jail. Here is where the Knights of the Round Table were kept after being captured. Several jail cells are here, with Renegade Knights guarding it.
Ground Floor
The Dining Room of the Le Faye's is located here, with Renegade Knights guarding them. The Front door is locked, with giant bats guarding it. The small keep's dock is located out the back. The Le Faye's trade and purchase with Catherby here. There is a stairs and a small trap door to enter the Basement.
First Floor
This is where the Le Faye's meet with people at the two tables and chairs. Strangely, there happens to be a Torture Rack with blood around it, proving the Le Faye's evil intentions. There are also eight shields on the walls that have the symbol of Saradomin on them, this is quite odd because they are followers of Zamorak.
Second Floor
This is where Sir Mordred is found, guarding the Holy Grail in King's Ransom, otherwise just hanging around there. If one tries to kill him, the absent Morgan Le Faye will sense her sons pain and plead for the player to not kill him. After the quest, she will not appear.
Quests
Trivia
When it was released, the keep's name was Fort Grymwold.
This is a possible location for clue scrolls.
You can re-enter the keep via the crate and the ship once you have completed the quest.
Community content is available under
CC-BY-SA
unless otherwise noted.