Kurask overlord
Release
5 June 2008 (Update)
Members
Yes
Examine
Large, heavy, with sharp things attached to its head.
Combat info
Level
LP
XP
XP
96
7,500
628.6
207.4
Equipment XP (2H/MH & Armour/OH)
37 / 25 / 12
Aggressive
Poisonous
Slayer
Level
XP
Category
70
1000
Kurask
Assigned by
Offensive
Max hit
276
0
0
0
Style
Speed

4 ticks (2.4s)

Combat levels
Defensive
Armour
Weakness
1447
69
Affinities
90
55
45
65
Immunities
[FAQ] • [doc]
The kurask overlord is an especially strong kurask. The kurask overlord can only be fought once, during the Desert Slayer Dungeon miniquest, after the Smoking Kills quest. Like all kurasks, it requires 70 Slayer to kill.
Killing the kurask overlord gives the player a reward of 1,000 Slayer experience. Contrary to popular belief, killing this boss while having the regular version assigned, does not give more Slayer experience: 1,000 experience is the maximum. However, if the player's current task is kurasks, then the 15% combat bonus of the (full) slayer helmet, black mask, hexcrest and focus sight is in effect, as well as the kurask overlord counting toward the task.
The kurask overlord is immune to all attacks not dealt via a leaf-bladed spear, a leaf-bladed sword, broad arrows, broad-tipped bolts or the Slayer Dart spell. The recommended technique for fighting the kurask overlord is fighting with Slayer Dart and using Protect from Melee. You could also fight using a leaf-bladed sword and use Protect From Melee and bring food and some prayer potions. Kurask minions are summoned by the kurask overlord when fighting him.
Habitat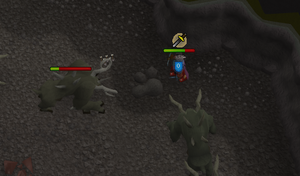 Community content is available under
CC-BY-SA
unless otherwise noted.