Walkthrough
Start point

Speak to Grubfoot in the Dorgeshuun mines.
Member requirement
Members only
Official difficulty
Experienced
Official length
Long
Requirements
Skill requirements are not boostable unless marked with a [B] for boostable.

Quests:

Items required
Items from the tool belt are not listed unless they do not work or are not automatically added.
Recommended
Enemies to defeat
Land of the Goblins
Yu'biusk
With Grubfoot following, enter Dorgesh-Kaan using the door to the south and head north-west where Oldak is.

Dismiss any familiar or Grubfoot won't follow you.

In the north-west room, talk to Zanik.
You not a Goblin!
Transmogrification
Unequip any items and dismiss any followers.
In front of the goblin guards, drink the goblin potion (pick any goblin appearance).
Climb down the entrance.
North, sitting on his throne, talk to the High Priest.
Take the quiz.
After the quiz, ask about Yu'biusk.
Dye your goblin mail black with the mushroom ink.
Wear the black goblin mail and go in the north-east room.
Pickpocket the priest for a key.
Talk to Zanik in the prison cell.
Search the crate in the room, talk to Zanik.
Whitefish
Macabre crypt
Unequip any items and dismiss any followers.
Go back to the goblin temple entrance, take a sip of your goblin potion, and equip your white goblin mail.
Steal the white key from the priest in the room west of the temple.

Remove the goblin mail to leave the room quicker.

Repeat the operation of stealing keys, dying your mail in the following order:

Yellow (north-west)
Purple (south-west)
Orange (south-east)
Blue (east)
Prepare for battle
Recommended: Switch your combat mode to legacy to optimise damage dealt.
In the event your character interrupts dialogue with any of the goblins, simply switch your action bar to one without any usable abilities.
Enter the crypt (large door north of the temple).
Use the Say-name option on each of the graves. After killing them, talk to them.

Leave the room (you will be thrown out).
Home portal
Return to Dorgesh-Kaan and speak with Zanik in the north-west.
With a light source, head to the south end of Dorgesh-Kaan to the agility course.

Head to the fairy ring under the agility course, or use the code AJQ.

Talk to Zanik, then Oldak.
Click on the machines next to Oldak, use combination 9-4-1, activate the machine.
Open the strange box in the northwestern part of Yu'biusk for a cutscene.
Continue dialogue with Oldak.
Quest complete!
Rewards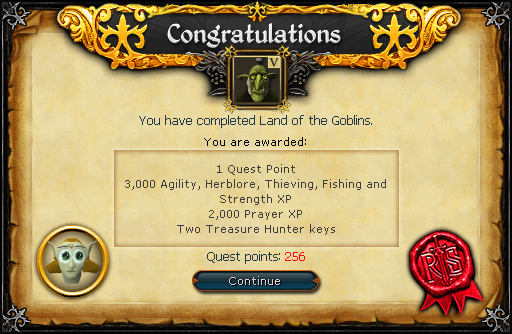 Music unlocked
Community content is available under
CC-BY-SA
unless otherwise noted.