A skill-specific large XP lamp is a rare prize reward from Treasure Hunter, which grants the player a definite amount of experience scaled to the selected skill level. The experience gained is the same from level 98 to 120. Lamps can be gained for any skill that has not been frozen.
In addition to coming in a skill-specific form, where the skill was specified by the lamp, players could also receive lamps where they could choose the skill they would gain experience in. These were replaced on the Squeal of Fortune with large prismatic lamps.
As of 11 December 2012, this lamp can also be obtained from Meg in the Player-owned port minigame.
During the 2014 Hallowe'en event, large XP lamps could be bought for 5,000 reward points or 3 trophies. Following the release of the quest Broken Home, after completing this quest once, the reward costs dropped by 15% to 4250 reward points.
If you use a large XP lamp on Dungeoneering, dungeoneering tokens will not be awarded.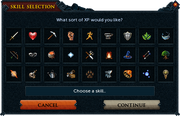 Experience table
The following is an experience table detailing the number of experience received from a large lamp for any given skill level:
Skill level
Experience
Skill level
Experience
Skill level
Experience
1
250
34
2,237
67
9,076
2
276
35
2,332
68
9,516
3
308
36
2,434
69
9,880
4
340
37
2,540
70
10,371
5
373
38
2,648
71
10,772
6
416
39
2,766
72
11,237
7
492
40
2,882
73
11,786
8
508
41
3,008
74
12,328
9
777
42
3,138
75
12,855
10
614
43
3,272
76
13,358
11
680
44
3,414
77
13,980
12
752
45
3,558
78
14,587
13
822
46
3,716
79
15,169
14
916
47
3,882
80
15,920
15
1,008
48
4,050
81
16,664
16
1,046
49
4,220
82
17,390
17
1,096
50
4,404
83
18,087
18
1,140
51
4,593
84
19,048
19
1,192
52
4,800
85
19,674
20
1,240
53
4,998
86
20,132
21
1,298
54
5,218
87
21,502
22
1,348
55
5,448
88
22,370
23
1,408
56
5,688
89
23,690
24
1,470
57
5,940
90
24,486
25
1,536
58
6,184
91
25,806
26
1,596
59
6,466
92
26,458
27
1,621
60
6,737
93
27,714
28
1,656
61
7,030
94
28,944
29
1,812
62
7,342
95
30,130
30
1,892
63
7,645
96
32,258
31
1,973
64
8,018
97
33,390
32
2,056
65
8,432
98+
34,408
33
2,144
66
8,686
Types of lamps