GTA: The Criminal Enterprises - The Loop
Play Sound
Legends' Guild The Legends' Guild is the most exclusive of all quest-based guilds in RuneScape. It is located to the northeast of East Ardougne, east of Hemenster and the south of Seers' Village. To enter the grounds of the Legends' Guild, players must have started the Legends' Quest. However, to enter the actual building, players must have completed the entire quest. Radimus Erkle is the headmaster of the guild, and he is also the start point of the Legends' Quest and While Guthix Sleeps.
Travel
There are several methods of getting to the Legends' Guild:
Features
Entrance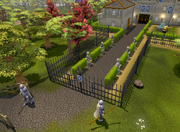 At the gates of the Legend Guild, there are two Legends guard on duty, only letting players who have started or completed the Legends Quest go through the gates. If a player who is a member of the guild enters the gates the guards proclaim "Legends' guild member approaching!".
In the garden there is a fountain and a Golden Gnome donated by SpecialEffect in 2016.
Basement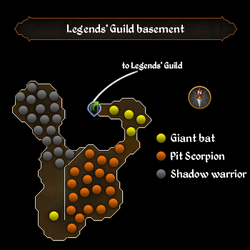 Downstairs is a basement that contains Giant bats, Pit Scorpions, and Shadow Warriors.
Ground floor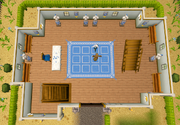 Radimus Erkle stands at the ground floor. There is also the Gold Totem which was obtained through the completion of the Legends Quest. The Skills necklace and Combat bracelet are recharged at the totem.
The Cape of Legends, which once was the best in the game, has since been overshadowed by Soul Wars Capes, Skill capes, the Fire cape, the Obsidian cape and even the cloaks from the Ardougne Tasks.
First floor
On the first floor of the guild is a general store run by Fionella.
Second floor
The eastern ladder on the first floor leads to a bank where players are able to deposit and withdraw items. The western ladder leads to Siegfried Erkle's Shop of Useful Items.
The replacement period per mithril seed is approximately 2 minutes 50 seconds. This store used to sell Silverlight, but this sword was removed from the store's stock. Instead, when lost, it can be reclaimed from Gideon Bede.
Known members
The following NPCs are members of the guild, confirmed either through conversation and/or being sighted inside.
The player also becomes a member of the guild, after Legends' Quest.
Trivia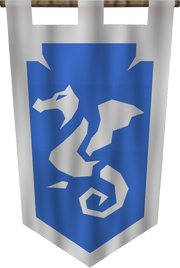 NPCs
Enemies
Items
Locations
Legends' Guild
Music
Miscellaneous