Legio Secundus is one of the bosses in the Monastery of Ascension. Accessing him requires an Ascension Keystone Secundus.
As with all the bosses in the Monastery of Ascension, Legio Secundus attacks primarily with a combination of a basic magic attack and a lightning attack - the latter of which is focused in a 2x2 square (expanding to a 3x3 square and then to a 4x4 square over two game ticks) which deals high, magic-style damage to the player if they stand where the lightning falls. (The lightning attack is always affixed to the player's location, and thus continuously moving throughout the fight is imperative.)
Like all of the Legiones within the Monastery of Ascension, Legio Secundus has a special ability which activates as his life points are gradually depleted in 25% intervals (every 7,500 life points drained) until death - occurring a total of three times throughout the fight. His special ability, however, is that he will incrementally increase the rate at which he spawns lightning by casting it instead of using his regular magic attack. Upon reaching 25% of his health, with only 7,500 life points remaining, he will only attack with lightning. As with all other Legiones, his special ability's activation is signaled by an overhead chat message.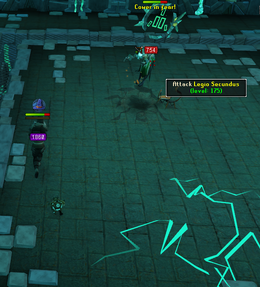 Drops
100% drops
Charms
No charm
3–5%
17–21%
17–21%
32–37%
21–26%
Represents a 90% confidence range based on a sample of 1,044 kills.
6 charms are dropped at a time.
Add data to the log (requires JavaScript).
Main drop
Item
Quantity
Rarity
GE price
Coins
37,000–40,000
Common
37,000–40,000
Coins
57,000–60,000
Uncommon
57,000–60,000
Grimy snapdragon
10
Common
18,660
Grimy avantoe
10
Common
11,790
Grimy dwarf weed
5
Common
52,115
Grimy lantadyme
5
Common
52,535
Grimy torstol
5
Uncommon
40,950
Dwarf weed seed
2
Common
2,992
Lantadyme seed
2
Common
5,364
Torstol seed
1
Uncommon
975
Rune platebody
2 

(noted)

Uncommon
74,960
Dragon longsword
1
Uncommon
57,244
Off-hand dragon longsword
1
Uncommon
56,759
Sirenic scale
1
Uncommon[1]
452,165
Rune bar
4
Uncommon
8,732
Magic shieldbow (u)
45–55
Common
22,905–27,995
Dragon arrowheads
30–60
Common
9,060–18,120
Rune arrowheads
80–120
Common
10,000–15,000
Onyx bolt tips
1–11
Uncommon
7,467–82,137
Crystal triskelion fragment 1[2]
1
Very rare
Not sold
Crystal triskelion fragment 2[2]
1
Very rare
Not sold
Crystal triskelion fragment 3[2]
1
Very rare
Not sold
Tertiary drops
Universal drops
Universal drops are dropped by nearly every monster outside of Daemonheim.
These drops are dropped alongside main drops.
Feats
I Got This ( 40) - Defeat each of the six Legiones consecutively without leaving the Ascension dungeon.
Stand Your Ground ( 50) - Defeat each of the six Legiones without moving.
We Are Legion ( 0) - Obtained a collection of unique drops from Legiones.
Trivia
Legio Secundus is roughly Latin for "Second Legion". However Legio is a feminine noun, while Secundus is a masculine adjective; the correct form would be Legio Secunda. Legions were the largest units of the Roman army and there were 6 in a whole army, hence there are six legiones in the Monastery.
Some time after the release the drop rate of the signet was increased from 1/64 to 1/50.
Bosses
Rewards

| | |
| --- | --- |
| Aura refreshes | |
| Hydrix items | |
| Titles | |
| Other | |
Community content is available under
CC-BY-SA
unless otherwise noted.