Arcane: League of Legends - The Loop
Play Sound
This article is about the summoning familiar. For the creature, see
Light creature
.

Light creatures are level 105 combat Summoning familiars. They have a 10% chance to instantly convert Divination memories into enhanced experience. When the instant memory conversion activates on a harvest, the energy for that gather is lost.
Light creatures can also teleport players to Tears of Guthix or to tormented demons in the Ancient Guthix Temple, if they have completed Tears of Guthix and While Guthix Sleeps, respectively.
Using an Enlightenment scroll increases the usefulness of the Light creature familiar by providing the player with benefits to agility, divination, and Tears of Guthix.
Light creature will only fight when it is attacked.
Light creature pouch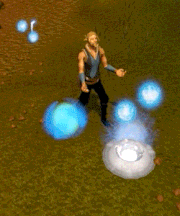 A light creature pouch is made by using a Summoning pouch on a Summoning obelisk with 204 spirit shards, a blue charm and a Light core in the inventory, and level 88 Summoning. Making the pouch earns 771.6 experience points. Using the pouch to summon a Light creature gains 9 experience points, and costs 100 Summoning points. Each pouch summons a Light creature which stays alive for 60 minutes before needing to be re-summoned.
Enlightenment scroll
The Enlightenment scroll grants the player with an enlightened buff, which lasts six minutes. Using a pouch on a Summoning obelisk creates 10 scrolls.
When activated, the enlightened buff lasts six minutes and gives the following effects:
In order to gain the benefit at Tears of Guthix, you must summon the familiar and use the special move before talking to Juna, as the familiar will disappear while you are in the cave, only re-appearing when you emerge. The light creature itself gives a handy teleport to Juna.
On average, a light creature familiar with the enlightened buff will give the fastest experience for normal divination training, at the cost of having to bring scrolls and missing out on the energy. If one prefers not to bring and use enlightenment scrolls or wishes to collect and keep more energy, a Nightmare muspah should be used instead.
Dialogue
Trivia
Every now and then the light creature will say "Lum!", a reference to the lums from the Rayman series.
Regular familiars

Gold charm
Green charm
Crimson charm
Blue charm
Elder charm
Clay familiar
Other
 Meerkats
 Ghast
 Chocatrice