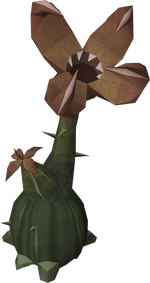 Livid plants are flora grown on the Livid Farm. They are enhanced by Pauline Polaris, who gives them to Lokar, who transports them to Chieftain Brundt, who uses them to protect the Fremennik Province. Livid plants have 3 growth stages. When they are ready for harvest, Pauline picks all the livid plants and sends them to the produce bin. They are then strung into livid plant bunches and deposited into the trade wagon for delivery.
There are 4 varieties of livid, all of which produce the same flower. Every so often, they get diseased, becoming a dark purple colour, and require curing.
Community content is available under
CC-BY-SA
unless otherwise noted.