The Logout button is used to log out of RuneScape, and is located to the top-right of the minimap, unless "Hide title bars when locked" is enabled in Interface settings. It is also shown regardless of this option if "Legacy Interface Mode" is enabled in Gameplay settings.
Upon clicking the logout button, a confirmation interface is displayed, with two options: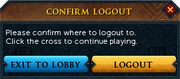 "Exit to Lobby" - Logs the player out to the Lobby
"Logout" - Logs the player out completely, back to the Login screen
These options are also found at the bottom-right of the Options menu.
Players can log out at any time, although they must be out of combat for at least 10 seconds.
If a player does nothing (i.e. no clicking, typing or cursor movement) for 5 minutes, the player is automatically logged out to the Lobby. This can also be prevented by simply moving the mouse cursor, without needing to click on anything.
The player will also be logged out completely if they have been playing for 23 hours straight, regardless of activity. To log back in again they will need to either restart the game client or refresh the game page.
Trivia
Community content is available under
CC-BY-SA
unless otherwise noted.